Who got Remote Starter installed in their fit?
01-17-2012, 10:24 PM
Join Date: Jan 2011
Location: Mesa, AZ
Posts: 80
I have an Ungo SR9000 installed in mine and have the remote start. I know a lot will say it's not safe to have the remote start on a manual but I am aware of the risks. I have rarely used it as I get garage parking at work, and its parked in the garage at home. Just like to cool it down a bit when it sits in the sun for a few hours when we are out shopping.
[IMG]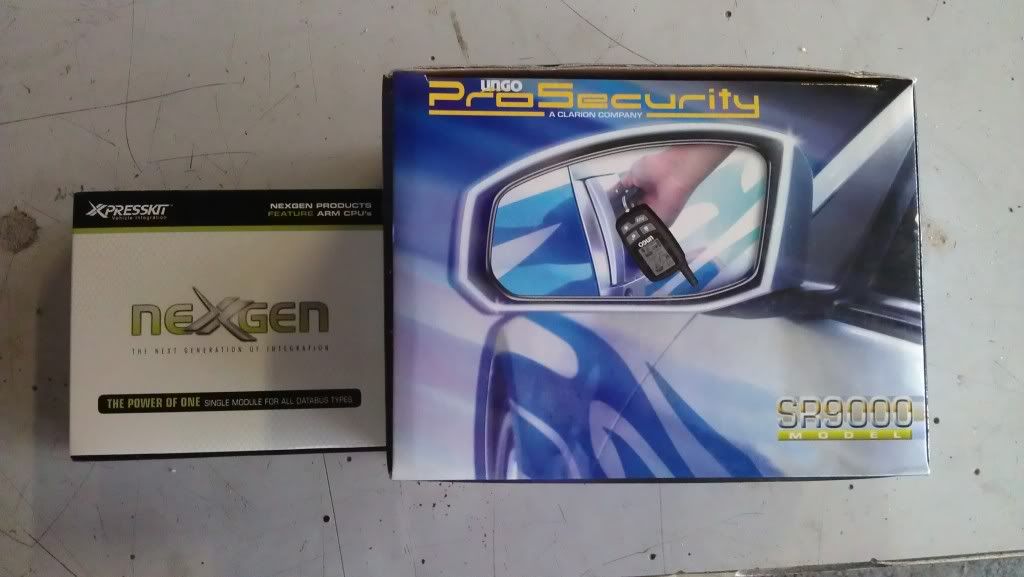 [/IMG]
[IMG]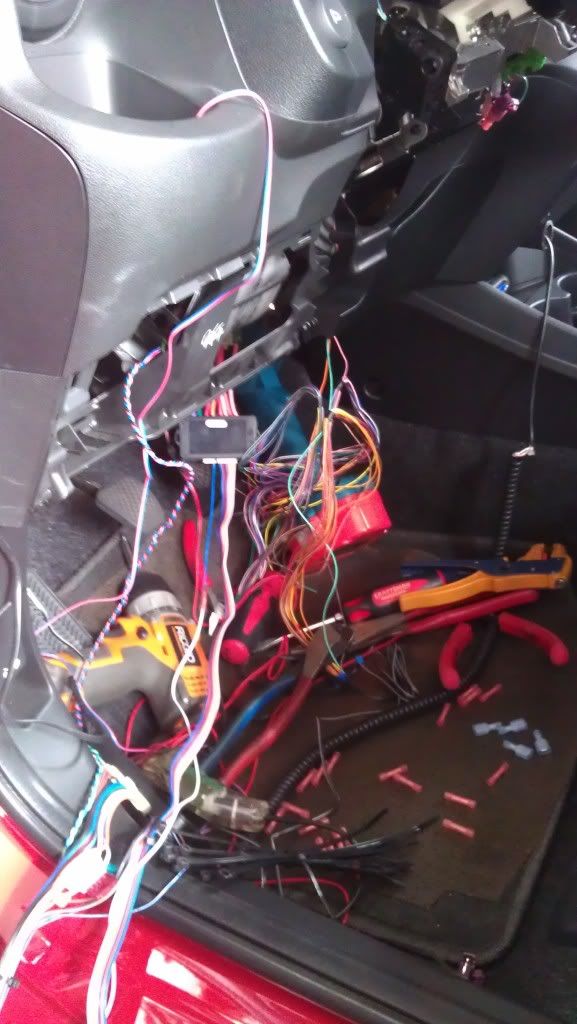 [/IMG]
[IMG]
[/IMG]
01-18-2012, 09:03 AM
Member
Join Date: May 2007
Location: Canada
Posts: 22
That is a lot of wires!. I have a Compustar two way car starter with alarm. Here in Winnipeg you need command start!. Going to be -35°C (-31°F) here with the windchill today and -31°C (-23.8°F)tonight without windchill.

Also great to pre-cool the car in the summer months.

Chris
04-07-2012, 01:56 PM
Join Date: Mar 2012
Location: 19047
Posts: 7
I'm working in a remote starter in my 2011 fit sport MT. You guys that have installed remote starters in your fits how did you connect the bypasses? And how did you connect the parking lights? Theres 2 wires for the parking lights one at the headlight switch and one Nader the dash fusebox. Also which bypass did you use? The xpresskit dball? Or an idatalink/omega? I have another thread going about my install if any of you can help.

I made a posting, which I'm going to clean up as an install guide once I get it working:

10-03-2012, 04:46 PM
Just got a 2011 Fit Sport AT, I have been installing remote starts alarms for years l. I got started at best buy and now I'm on to bigger and better things but I still install rs/alarms in all my cars. I have the iPhone and the three modules I needed to get this installed in my car were the
• Xpresskit DB-ALL using install option 2 in the install guide
• Viper 5104v remote start alarm brain
• Viper VSM-250 smart start interface.

I went with the cheapest viper model rs/alarm brain because infinite range and 2 way communication are handled by the vsm250 smart start which talks to your phone. Also the DB-ALL makes for super easy installation. I only had to hook up about 12 wires versus the 26+ without it.

Here's the real kicker though, for those of you out there with manual transmissions, the viper 5104 is set up to safely remote start a manual out of the box, without janky handmade reed switch brackets and whatnot. It does this by having to follow a shutdown sequence in order to remote start it.

Dig: to engage manual transmission start mode you do this.
• With your car running, shift into neutral
• place foot on brake and engage E-brake
• let foot off brake
• press the remote start button on the fob. The remote starter is now controlling the car.
• turn key to off position and remove key (car will still be running)
• exit car
• shut car door
• press the lock button on the fob (doors lock and car shuts off)

You can now remote start your car.
The car will not remote start if any of the following occurs:

• shutdown sequence is incorrect
• door/trunk/hood is opened after locked
• alarm is triggered
So basically if there's any possibility of someone getting in and changing the gear it won't start.

This is the SAFEST AND EASIEST way to do a remote start on a manual.

I put this exact same setup in my 1989 honda CRX Si (sans DB-ALL, this car is pre data bus) and it works beautifully.


It's by far the best setup IMHO.
10-17-2012, 11:05 AM
edit:scratch that
~~~~~~~~~
I got my remote starter installed last week (Thursday, 10/11/12), on my 2010 MT Fit at a nearby electronics store. I don't have a service manual for the Fit and don't particularly feel like fucking up my car (since I've never done such an install before).
I originally had picked the Viper 5904 when I set the appointment a few days before. But when I went to have it installed, I asked if I could change it to the VSS5000. But during the install, the installer ran into a pair of difficulties... one being that the module in the VSS5000 didn't work with manual trans. The second was, the replacement module was bad, needing ANOTHER replacement.
In the end, I got, what basically amounts to the 5104 + VSM200. The VSM250 has additional GPS features over the VSM200. And if I had known it was going to be two systems bundled, I might've asked for the 250. Oh well.
There's one little quirk that's been annoying me. The auto door locks... or rather, UN-lock.
Before I got the system installed, I had the door set up to automatically unlock when I pull my keys. And for all intents and purposes, it's still setup that way. But, when I arm the remote starter, the engine stays on... and the doors don't unlock when I pull my keys. So I have to manually unlock them.
Once I'm out and hit the lock button, the car shuts off and locks the doors. Then a few seconds later, I hear the locks triggering AGAIN. Don't know if that's related though.
This probably the only time I wished I had an automatic transmission Fit. If I had the A/T, I could set the doors to unlock when shifting into Park. I also wouldn't have to deal with the whole shutdown sequence. Sure, it's roughly how I park my car anyway (only needing to get used to the FOB portion)... but I can't get into my Fit to grab something I might've forgotten without disarming the remote starter. And being forced to start up the car and go through the sequence AGAIN, just to rearm it.
I've been searching online to see if there's a setting for the Viper system to unlock my doors when I hit the button during my shutdown sequence, so I don't have to manually unlock the doors to get out.
---
Last edited by Goobers; 10-17-2012 at

11:22 PM

.
01-06-2017, 05:40 PM
Join Date: Jan 2017
Location: Saratoga Springs, UT
Posts: 1
Real Information
---
I have actually purchased and installed the Viper remote start on a Honda Accord.
I am not a professional automotive electrician or mechanic (any more), but I have used my tooks, soldering iron and skills on multi-million dollar computers, networks and other delicate electronics without once having to say "oops" in a permanent way.
You will have to do things in limited spaces with limited lighting. Many times you will wish you could use both hands when only one will fit. Have you ever cut a cable bundle, found the right wire, stripped it and spliced into it with one hand?
1 - There is sufficient security in any reputable system to prevent theft of your vehicle or dangerous issues (engine running high speed, engine damage, environmental damage, fire, etc) incorporated into the remote start system.
2 - If you have issues hooking up your home theater system or car stereo, have a professional install your remote start.
3 - If you are no longer lean and limber with excellent manual dexterity and visual acuity, have a professional install your remote start.
4 - If you bought your electronics tools from Radio Shack, Wal-Mart or don't know the difference between dikes, wire cutters, strippers or cable cutters, or if you have all those tools in a combination tool, have a professional install your remote start.
5 - If you don't have the patience to completely read the instructions, including all the silly cautions and hints before you start and watch a YouTube video, have a professional install your remote start.
6 - If you frustrate easily and swear a lot, make sure nobody who will be easily offended is in the area.
7 - If you don't know the difference between when to use heat shrink and when to use electrical tape, have a professional install.
8 - Make sure someone can hear you scream and come running with a fire extinguisher and first aid kit if, in spite of everything, you screw up.
9 - If you're doing it yourself because you can't afford a professional install, you definitely can't afford a professional to repair your catastrophe.

Now, if you still feel confident, go for it! I use a website called Aliexpress.com to get expensive electronic gadgets that I need from time to time. Be careful who you deal with and you must have good interpretation skills to understand the details of what is being offered. Most sellers use computer translation, are very liberal with their description of what something does and its compatibilty and even more liberal with the specifications of a specific item. For example, they may offer a "Transponder key blank for a 2013 Honda Fit for $12", but check the details to make sure it includes the transponder (not just a space for it) and that it is at the same frequency as your current key. It usually takes 3-4 weeks to get what you need. I purchased a Bluetooth OBDII interface there for under $10 that the Torque Pro app on my android phone says is "a cheap knock off", but has provided reliable, accurate service.
12-11-2017, 12:34 PM
Join Date: Dec 2017
Location: USA
Posts: 4
Does anyone know if the Remote Engine Start System 08E92-E54-400B will work on my wife's 2016 5 door EX KA CVT?
Dealer recommends the Remote Engine Start System ii 08E92-E54-100 (but it's $200+ vs. a new 400B on eBay for $50!)
04-15-2019, 12:02 AM
Join Date: Apr 2019
Location: Canada
Posts: 2
I want remote start too!!
---
I want a remote start, too!! Waaaaaa

Thread
Thread Starter
Forum
Replies
Last Post
3rd Generation GK Specific Fit Photos & Videos Sub-Forum
Fit DIY: Repair & Maintenance