2019 Sport with HPF package wheel choice
03-16-2019, 11:34 AM
Member
Join Date: Nov 2013
Location: Bay Area, CA
Posts: 35
2019 Sport with HPF package wheel choice
---
I'm looking at the "build and price" on the honda website for the 2019 Fit. For the Fit Sport there are standard alloys, and two optional alloys. The configurator doesn't say the optional wheels are any wider and all of them are 16". Some google-fu failed to turn anything up. Does anyone know if the optional wheels are wider?
03-18-2019, 04:51 AM
Join Date: Jun 2015
Location: HI
Posts: 7
Ive been told that the specs are the same as the Stock EX ones : 16x6
However, Im curious of the offset is the same the same at +53. The only way to know for sure is if someone has the wheel and takes a picture of what is stamped on the back.
These right? There are black versions too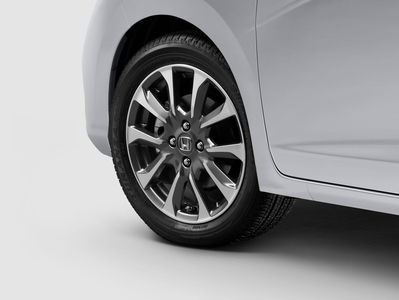 03-18-2019, 08:18 PM
Member
Join Date: Nov 2013
Location: Bay Area, CA
Posts: 35
I think you are right. because the honda website would mention it as a reason to upsell to the more expensive wheels.. I could ask at the dealer but those guys usually know less about the cars I am interested in than I do.
03-19-2019, 07:37 PM
Join Date: Jun 2015
Location: HI
Posts: 7
I was on live chat a few times with honda this morning. I think theyre irritated by me
8.5 and 18.01 were the responses I got in terms of the width. After inquiring more, I learned that the specs that the 18.01 that was given to me was the length x width x height manufacturing information, not the typical way that wheel specs are given like "16x7"
The rep I was talking to could not give me a straight answer right away but said he would email after verifying things.
Does someone have the wheel in question and just take a picture for us of the back of the wheel please?
Thread
Thread Starter
Forum
Replies
Last Post
For Sale / Want To Buy / Classified Ads for USED Fit Items
For Sale / Want To Buy / Classified Ads for USED Fit Items