Pitbull moped
08-03-2013, 07:00 PM
Pitbull moped
---
A couple of shots of my "island hopper" . She runs strong and solid. I bored out the original 49cc to a 80cc with a 3 stage racing clutch and gearing. Ranging from 69=70 mph now. Getting close to 100 miles on a full tank $3.00 tops off the tank.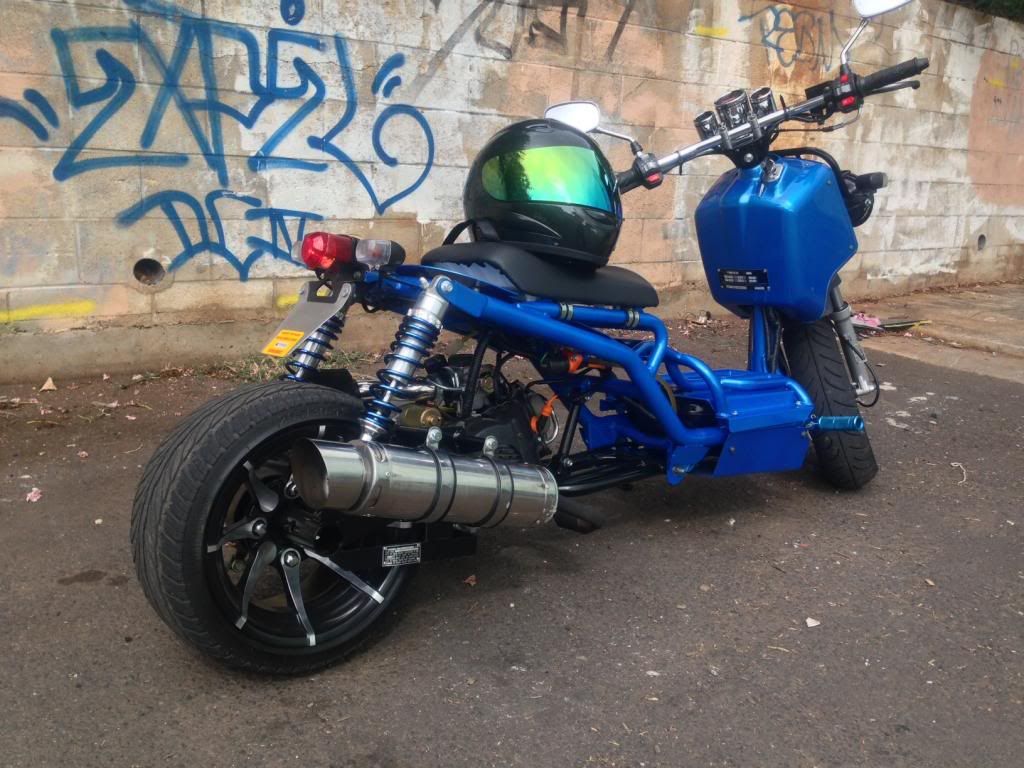 ---
Last edited by vinnymac; 08-03-2013 at

07:11 PM

.
08-03-2013, 07:14 PM
08-04-2013, 04:26 PM
08-04-2013, 04:38 PM
Lol damn 70 mph on that thing looks dangerous! I was looking into a cheaper way for around town and to keep the miles off the fit. Problem is I need the space and need to use the freeway around here. Santa Barbara surface streets are full of tourist who are lost.
08-08-2013, 12:58 PM
Yup Sub, I'm still peekin' in here every now and then... Lol!
Hey Dave, thanks and you're exactly right! 65+ mph on this thing is dangerous... I only do it when racing on a straight stretch of the track... We don't have the best of roads here either unfortunately so I ride slow just like I do in the Fit...lol
12-04-2013, 06:20 PM
Little more shiny things
---
A couple updates like chromed handle bar grips, oem rims, belt cover that I had triple chrome dipped in Cali, removed all stock lighting and installed Mirshin square faced headlights, mini chrome Harley Davidson chopper turn sigs and tail light, side marker lights, high backflow/performance manifold and muffler, chrome kick stand and low pro mirrors. Chrome front forks with Sickspeed dress up bolts throughout. 8.1.gearing, re-wired -custom- electrical harness to name a few things so far.
Waiting on my engine and engine mounts to do engine swap with a 150cc bored to 180cc.
9593185a-523f-4efb-8ff7-393b411bb3f5_zps0e9b2150.jpg?t=1386197600
260f8f5e-a6e5-454e-9030-a07bf4a03f13_zpsefe52bab.jpg?t=1386197374
12-31-2013, 04:02 AM
Thanks kenchan and Soob!
The bigger engine swap is just around the corner. Got the wiring harness for
it already...
But, Santa just left my house so I guess
my other half will relent and me finish me build....lol
01-02-2014, 03:38 PM
Will do vtecfit1, it's been kicked up a notch by the way. I went ahead and added the 100cc Big Bore kit with a bigger head but I need more power even though I rarely use it!!! =)
Thread
Thread Starter
Forum
Replies
Last Post
Other Car Related Discussions
Other Car Related Discussions