FS: Curt Trailer Hitch and Honda Genuine Car Cover GE Fit
10-30-2017, 06:19 PM
Join Date: Dec 2015
Location: San Diego, CA
Posts: 1,537
Curt Trailer Hitch and Honda Genuine Car Cover GE Fit
---
As the title states. I have a Curt Trailer hitch for a 09-13 Honda Fit. Worked perfect and only requires (1) hole to be drilled. Plus its extremely tucked and hidden unlike the non-curt versions. Only SoCal maybe Arizona if Im headed that way pick up. SOLD
Also have a Genuine Honda OEM Car Cover in gray. I purchased this to use while my Fit waited for its airbag recall since I technically was not supposed to drive it. Used it a few times after detailing the car. Comes with the cover and a carry bag. In good condition, there is a small hole or two when the stray cats in my area decided to climb up it but you'd have to look to find them. All packed up and ready to ship. SOLD. This is nearly $200 new.
Used it specifically to mount my Kuat bicycle mount.
Will try and find a pic of the actual cover on the car.
Here is a stock photo.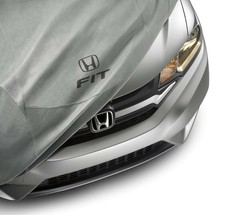 ---
Last edited by shinjari; 02-05-2018 at

05:52 PM

. Reason: ITEMS SOLD PLEASE CLOSE
11-02-2017, 02:35 PM
Join Date: Dec 2015
Location: San Diego, CA
Posts: 1,537
Bump. Lets get these out of my garage!
01-12-2018, 08:00 AM
Join Date: Jun 2017
Location: pasadena, ca
Posts: 39
interested... cover, particularly - hitch, maybe ? i plan to wander down (or up, for you) to fit-meetup tomorrow... will bring some cash... cya? h.
Thread
Thread Starter
Forum
Replies
Last Post
2nd Generation GE8 Specific For Sale/WTB Used Parts Sub-Forum
2nd Generation GE8 Specific For Sale/WTB Used Parts Sub-Forum
2nd Generation (GE 08-13)
3rd Gen GK Specific Fit Exterior Modifications & JDM Styling Sub-Forum