Hey All,
opening disclaimer: I'm not trying to say this is the perfect universal kit for the GK cars, yet.... I took measurements and this is what the calculator on Air Lift's website recommended. These are 3 inch diameter and our coils measure 3.75 on the inside. I played with their fitment calculator and even though they offer a 3.5" bladder, no combo of numbers could get their calculator to choose the 3.5 inch units. I plan to share a link to this post with Air Lift and see what they have to say. Thanks!
My go fast days are behind me, for now... My main goals and reason for owning the Fit is because everything seems to fit, it's cost effective, and I really just enjoy everything about the car. It has its issues but I can look beyond them because of the positives. I got tired of feeling like we were sagging and I ordered the
Air Lift 1000 universal kit, part number 60901
. I wanted Firestone but they have discontinued their offering. With the Air Lift Company I had to measure and buy universal.
Three weekends a month we pack the Fit full and we race or she races bicycles somewhere on this side of the USA. I estimate that with us, the bikes, and the gear inside, we add about 800-plus, pounds to the car. We travel about 8,000 miles per year only because of bicycle races.
Primary Justification:
Car feels heavy when loaded (because it is heavy)
Rear tire wear - feathering on outsides
Nervousness of road bumps while loaded
Headlights pointed upward
General estimates on people and gear, in pounds:
Me - 250
Her -150
2 bikes, rack, and hitch - 100
Yeti Cooler - 60
Warm up trainer - 15
Awning - 50
Awning weights - 50
Repair Stand - 10
Toolbox -20
Her Bike Gear bag -10
My clothes bag - 10
Her clothes bag - 10
Extra Water -30
Recovery boots - 5
Misc bag - 5
Extra wheels in bags - 8
Changing tent - 3
Pit Stand for bike - 4
Floor Pump - 4
Misc Stuff that always seems packed in at the last second -10
Total = 849 (wow, first time trying to be accurate with my guess and I think the manual says the fit is max at 850 pounds)
When loaded the car usually sat with the rear fender just at the top of my tires. (Add updated tire size later) Now I expect to return to about factory height when needed.
I've had helpers before on an SUV so I already know that I'm a little biased and really enjoy having them.
I never really planned on doing a high level How-to, but I have enough photos that I may as well share what I encountered.
So the install:
The kit comes with universal directions and they will help you get the air bladders installed. They'll tell you how to use the fittings, etc..
Please notice that each picture is captioned with italicized words just below the pic.
I got carried away at first and installed the bladders before realizing the spring insulators don't allow the bladder to sit flat. Lightly trimming first would be MUCH safer.
I have a tool holding the bladder up, to show the rough razor knife cuts I made. The rubber is super soft so I wouldn't expect any issue on the air bladder. Do the trimming first thing.
The little bit of material that needs removed. This was just one side of the car. It will be very obvious when you see it in person.
Without trimming, the fitting doesn't quite reach out the bottom of the spring perch. Also with pressure added, it pushes to one side. This is just one more reason you need to trim the insulator fairly flat.




With the very little material removed you can see how much more nicely the fitting protrudes out the bottom of the perch. Please ignore the dusty gravel water residue. It looks like salt but luckily is not.




Bladder sitting nicely on the insulator.




Keeping all slack away from other sensors and wire loom.




Taking advantage of the E-brake cable being right there.




Another where I went up to the unibody.




You can barely see the air lines run past the coil. I'll get a better photo an replace this one.



Looking from the rear, I mounted the fittings in the bumper. This is surprisingly far froward and protected by the hitch. I ran dual air lines because of what I've read about single line systems and extreme body roll. You don't want to push air out of one side and into the high-side, thus pushing you over even more. Also shown in this picture is the initial install and you can tell the spring insulator is not trimmed, so the air bladder looks a little uncomfortable sitting on the the bottom of the spring perch.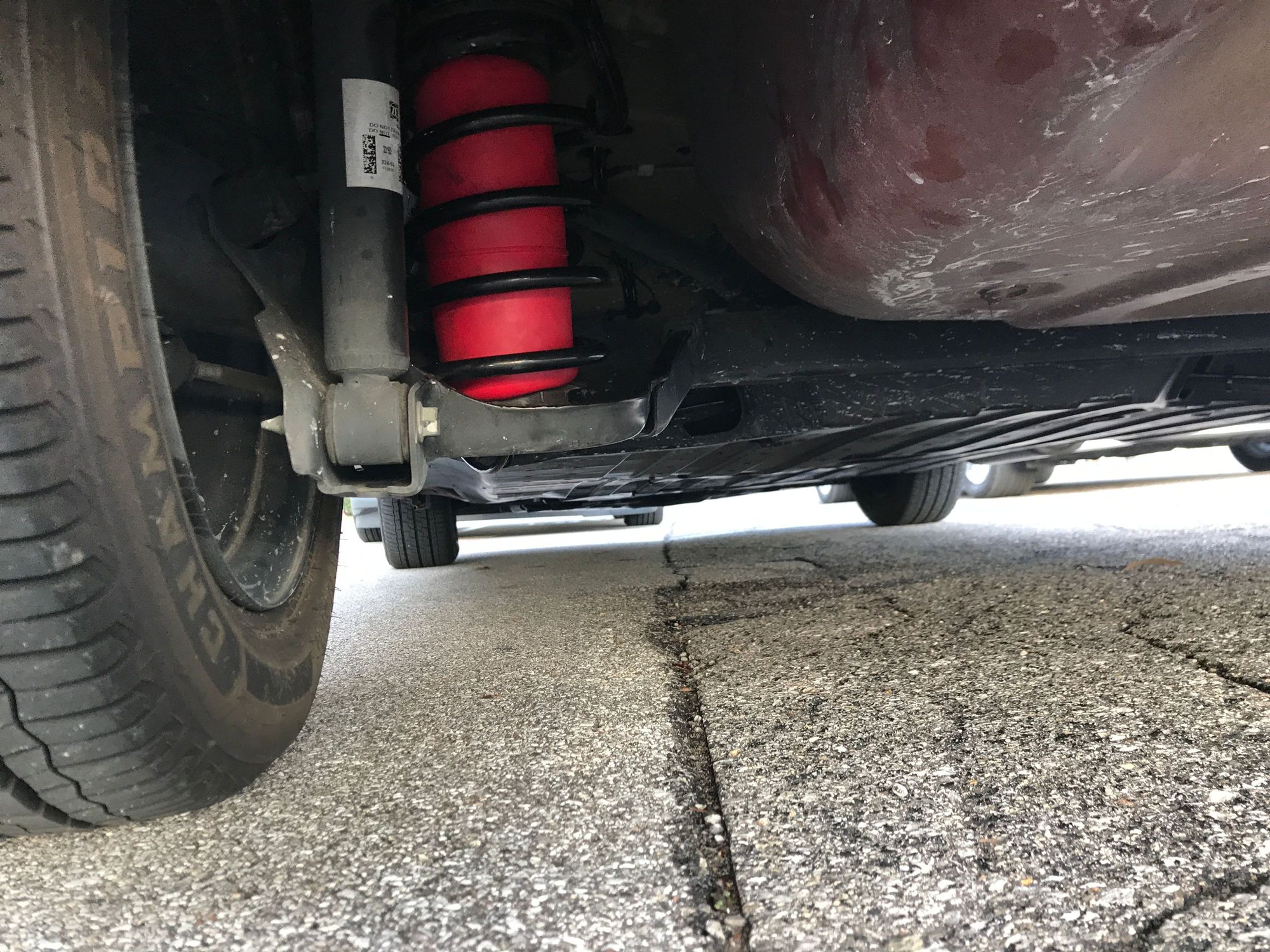 A picture from the back. Actually taken before I realized I was going to have to cut on the insulators like I mentioned in the beginning.




Passenger side from the rear.





Sitting in the parking lot with 15psi, and no load. I'll probably drop to 10psi for empty duty.




One more pic of the air valves. Also the air bladder sitting very nicely on top of the spring insulator.


You could rush the install but I would give yourself two hours to sit back and do this at a comfortable speed. The last thing you want to do is mess up an air bladder. I used all but about 6 inches of the provided air line, and the spring clips they give really do not spring back all that well.
I will have a few road trips coming up in the next few weekends and I'll report back. I plan to update this with some prior loaded pictures, and pictures of all the junk we load inside.
Please feel free to ask any questions and I can give more detailed answers.