TANABE JAPAN: Exhaust Manufacturing Tour
09-19-2007, 07:03 PM
Join Date: Apr 2006
Location: Torrance, CA
Posts: 183
TANABE JAPAN: Exhaust Manufacturing Tour
---
As a FitFreak Manufacturing Sponsor we are increasing our efforts to answer all of the questions that members have and will be monitoring the forum more closely than in the past. The following article has been hosted on our site, and I thought that it would be interesting to post this up as a tech article for the forum. We get alot of PM's, emails, and phone calls about our exhaust systems, so I think that this will be a great forum to answer any technical questions that fit owners may have about our exhaust systems.
Tanabe high performance exhaust systems are made 100% in Japan at the Tanabe Shiga Factory. From the mufflers, piping, and even the hangars and flanges, Tanabe systems are constructed in-house, in their entirety. Each Tanabe exhaust component is made using a high level of engineering, hand-crafted care, and an unprecedented level of quality that creates a special bond with many owners who purchase these unique systems.
The exhaust manufacturing section of the Tanabe Shiga Factory employs some of the most advanced computer aided machinery, precision laser cutting tools, high quality materials and a group of highly dedicated, skilled craftsmen and engineers. During the R&D of each exhaust system, an in-house Bosch four wheel dynamometer is used to test power and function of each exhaust system.
An initial founding member of JASMA (Japan Sports Muffler Association) over 15 years ago, the Tanabe exhaust system is the only one of its kind to be completely manufactured and assembled in-house, in Japan, that is readily available to North America to have the highly coveted ISO9001 certification.
During each phase of production, each component undergoes an exhaustive series of inspections to ensure that the engineering requirements for material quality, fitment, weld quality and function are of the highest specification.
1. SET PIPING & MANDREL BENDING
Piping is the first component of the exhaust system to be created. Using engineering data gathered during R&D, the computer is programmed to cut the high grade SUS304 stainless piping to exact lengths and sections. The piping is then sent to the CNC mandrel bender, where engineering schematics and programs are loaded, and the machine produces exact replicas of the engineering department's production prototype piping. When the batch is finished, the piping is sorted and stored for assembly.
2. MUFFLER CONSTRUCTION
Many parts of the muffler construction phase are a Tanabe trade secret, which helps the exhaust systems acheive their beautiful, deep tone. During this phase, the computer is programmed for muffler type and vehicle application. This determines the internal construction type (chambered, loop or straight through) and most importantly, the density of the new Advantex internal packing material to be used. Each main muffler and sub muffler has a carefully calculated formula for packing material, to acheive an optimal balance of flow and noise reduction. High luster SUS304 sheets are cut to length, stamped with the Tanabe logo, and are then shaped according to canister type. The canister and internal assemblies are then assembled, and sealed by a highly precise robotic TIG welder.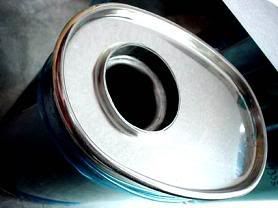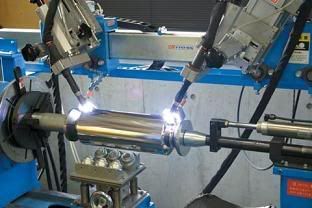 3. BRANDING AND TIP CONSTRUCTION
Branding and identifier plates are tack welded by hand onto the completed muffler canisters, sub mufflers, resonators and piping sections. These identifiers contain a production number, part number, and the Tanabe logo and exhaust name, for authenticity and the highest level of quality assurance. The identifiers help the engineers track any minor changes they may make to an exhaust system design, and are an extra step Tanabe takes in quality production, which helped Tanabe receive the esteemed ISO9001 certification. Tips are designed and constructed in house, and are sorted according to size, length and diameter for final assembly with the muffler and exhaust system piping.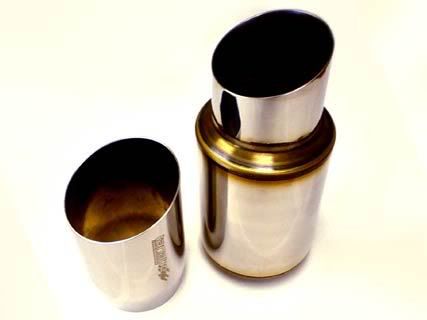 4. HANGAR AND FLANGE CONSTRUCTION
Even all of the hangars and flanges found in Tanabe performance exhausts are completely constructed in-house. A combination of computer aided design, and human interaction are used to create these. The SUS304 hangar's sizes, diameters and lengths are determined during the R&D phase, and are bent and sorted according to vehicle make and model. The flanges are cut from SUS304 stainless steel using a CAD assisted precision laser cutter. The thickness of each flange is carefully determined by the engineering department for each vehicle, depending on placement on the exhaust system. On areas of higher stress, a stronger, thicker flange is used. On areas of lower stress, lighter weight pressed flanges are use. These flanges are manufactured and stored for assembly according to bolt pattern, pipe diameter, and application.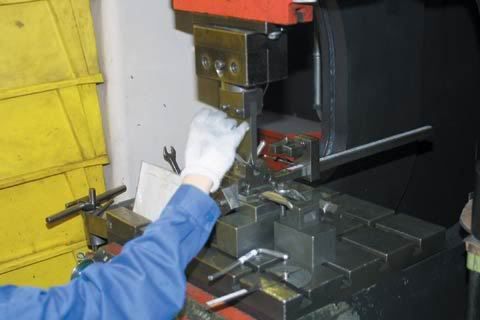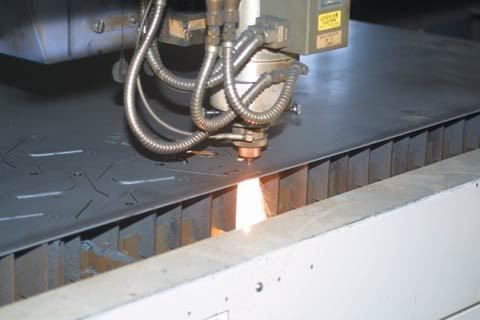 5. EXHAUST SYSTEM WELDING AND ASSEMBLY
Once all other exhaust components are completed, the finished pieces are sent for final assembly and welding. Tanabe's highly skilled welders perform the necessary manual functions that require a high level of craftsmanship and accuracy that are beyond the limitations of machine assisted production. A final inspection is performed on all of the pieces before being sent for packaging and boxing.
6. PACKAGING AND BOXING
The final product is delivered for cleaning treatment, for a quality finish. The exhaust system is then carefully packaged, wrapped, and boxed to protect the exhaust system and it's finish from external damage.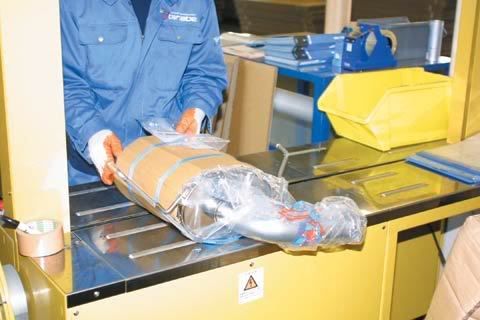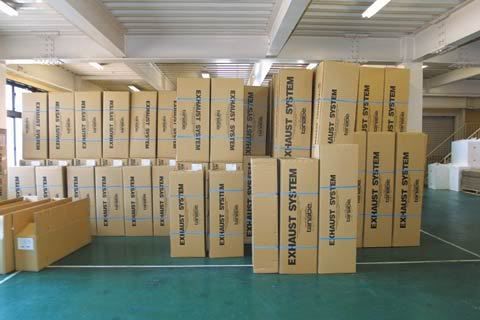 09-24-2007, 06:37 PM
Join Date: Apr 2006
Location: Torrance, CA
Posts: 183
Thanks for the kind words! We have alot of technical info to share that I think the Fit Community will be interested in so stay tuned for more articles in the future. The forum is a great way for our company to get feedback from enthusiasts and also to be able to provide customer service to them with any problems that they may have. So if you guys need anything please PM me!
09-25-2007, 12:05 PM
Join Date: Apr 2006
Location: Torrance, CA
Posts: 183
Thanks for the compliments! If anyone has any questions or feedback please let me know!
05-17-2012, 09:54 AM
Join Date: Mar 2012
Location: Centerville
Posts: 4
Medallion Touring
---
Just installed a Tanabe Medallion Touring cat back exhaust on my 2011 Fit. Perfect sound quality and exactly what i was looking for. Low drone and not a blaster. MPGs up 1 gallon on first full tank, plus slight increase in hp. Advertised hp gains of 5-9 hp and although i cannot measure that, i believe i am getting it. Took only 1 day for the car to become "familiar" with the new exhaust and begin the performance increases. Bolted right on and was a perfect fit. nice job guys!
Thread
Thread Starter
Forum
Replies
Last Post
For Sale / Want To Buy / Classified Ads for USED Fit Items
Car Shows, Events, and Racing
Fit Engine Modifications, Motor Swaps, ECU Tuning
california
,
exhaust
,
fit
,
honda
,
japan
,
logo
,
manufacture
,
manufacturer
,
manufacturing
,
parts
,
performance
,
production
,
tanabe
,
tour
,
tours