GI: JDP Super-Fantastic Custom Fit SUBWOOFER ENCLOSURE for GE8!
02-01-2013, 12:42 AM
Join Date: Jun 2011
Location: Pasadena
Posts: 116
Hey guys. Sorry, I think John has just been really busy lately. I'll try to encourage him to get things going. It might help if you guys contact him about it too so he knows this interest is real.
05-21-2013, 08:00 AM
Join Date: May 2012
Location: Australia
Posts: 4
I'm ordering
---
I'm ordering one as we speak, emailed John and just waiting on a Paypal money request so i can pay him. Postage to Melbourne Australia is a killer ($260 USD) so i hope it's worth it. I'll post some pics when i get it.
06-30-2013, 02:43 PM
Originally Posted by
howiedoit
What's up guys!
We all know how awesomely practical our cars are. To add some THUMP but to keep the practicality, JDP has been working on a super-custom-fit subwoofer enclosure for our Fits!
Here are some key features:
***Custom fit:
Developed specifically for GE8! No drilling holes because the enclosure is being developed to use existing holes for mounting!
***Space savings:
The box will be tucked to the side and will utilize some unused volume on the passenger side of the trunk.
***No loss of function:
JDP carefully designed this enclosure so you can still recline your rear seat back. You will also still be able to use the trunk cover if you have one.
***For 10" Subwoofer:
This enclosure will be for a 10" sub with mounting depth of less than 5".
***Enclosure is ready for sub:
High quality speaker connectors will be integrated to the enclosure, so throw in a sub and you're ready to rock!
***Excellent JDP Quality:
Same excellent quality and finish as you've come to know with JDP.
Pricing TBD
If there's enough interest, this enclosure will go into production...so post up if you're interested or if you have any questions!
This picture is not of the completed product...it's just a working picture.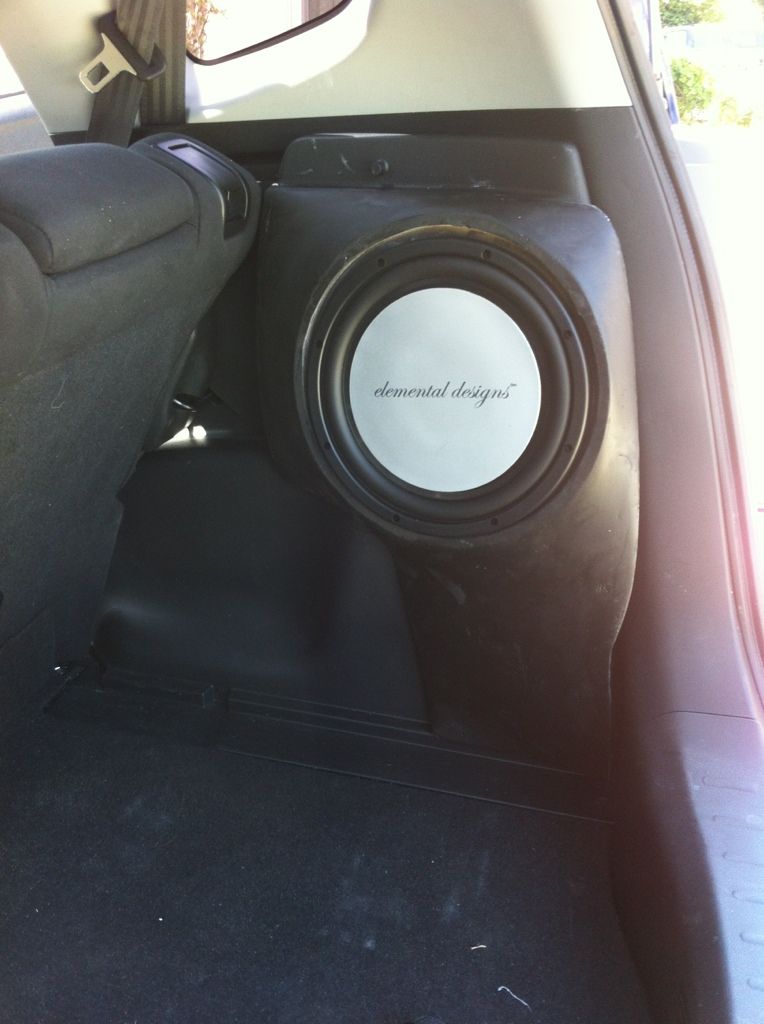 *edit*
Interest list:
1) howiedoit - yes
2) Shmithers - interested, depending on price
3) Theos92vr4 - interested, depending on price
4) slimdizzy - interested, depending on price
5) FyrFytr - interested, depending on price
6) Smurf_GE - interested, depending on price
7) Superdat1 - interested, depending on price
8) jdmjunkie561 - interested, depending on price
9) FitIsGo85 - interested, depending on price
10) BlueBoogers - interested, depending on price
11) Bodhi1 - interested, depending on price
12) hatchpat - interested, depending on price
13) Bugolgi - interested, depending on price
14) Fatchops - interested, depending on price
15) magdalena - interested, depending on price
16) breakerboyspikes - interested, depending on price
17) derek244 - absolutely interested
18) hayden
19) Diasoul
20) True Adrian
21) krunk13
22) theskeels
23) johnnyHT
24) JLOracing
25) Kiet
26) trahmah
27) FittedOnEm
28) Fauz
29) Gin
30) pig_pit
31) Gaujo
32) centralharbor
33) gharrington
34) mo-FUK
35) andycampero1
36) rdmkc
37) corygibson
38) mulletboi86
39) FitisRosie
40) xTravisxEdgex
41)
40 people and not a single pic of a finished product? JDP's website doesn't show this product, HEY HOWIE! anything would be awesome, myself and another are interested, i am currently running a 15" shallow box i take in and out if i need the room, but this would bee cool for drive in's and (car)camping
Thread
Thread Starter
Forum
Replies
Last Post
2nd Generation GE8 Specific For Sale/WTB Used Parts Sub-Forum
Gauge Interest in a Fit Product or Group Buy
Gauge Interest in a Fit Product or Group Buy
2nd Generation (GE 08-13)