EvoX Fuel pump installation
08-12-2011, 04:51 PM
EvoX Fuel pump installation
---
So today I didn't have work, I've wanted to try this for a while and I was bored, so I decided to install a different FP in my car which came for an EvoX.
People have installed different fuel pumps in their fits, such as the Walbro 190 or 255 but they had to modify something because the units were just too long, I also heard about the wally whine, so I decided to find myself a suitable OEM alternative which should be as quiet as the stock pump. WHY OEM cuz it's the shiznits,the fit and evo FPs are denso FP so yeah... Why a FP from an EvoX? I came from an Mistu Eclipse (yay 2gb), so I know Evo guys love to sell off their Stock Parts for "better" parts so you can always find a bargain. I was pretty sure that the walbro units were direct replacements for the eclipses and older generation evos so when I saw that the EvoX FP was smaller I decided "IT MIGHT JUST FIT" so I bought one.
here's a link comparing Evo 8/9/10 FP
Lancer Evolution 8/9/10 Fuel Pumps - DSM Forums
this link also has other links as well as pics comparing the EvoX Fp to other FPs. I figured it would be a damn good replacement for the FIT's stock FP if it fit.
Here are two pics sorta measuring the EvoX FP before I got started
So after removing the center console, there is a metal plate covering the FP Housing, remove the 4 screws holding it down , unplug the connector going to the hand break and the FP housing and move it out of the way
remove the hoses by pressing them towards their connection, press the tabs, then pull the hoses off, easy peasy, just have a rag around the hoses before you pull them off cuz you might get a spray of gas.
Remove the black ring holding everything down, big screw driver and a hammer works
After the black ring is off you can move the unit around, you can't pull straight up cuz the floater for fuel level is in the way, so I directed the floater towards the front of the car and angled it out.
Once the housing is out, to remove the FP you need to separate the top and bottom portions of the housing which is held together by i think 3 clips, also unplug the connectors cuz they get in the way.
once the top/inner portion is separated from the bottom, there is a small thing that clips under the FP to hold it in place, 3 clips easy to remove, take that off and pull the FP out.
EvoX (Left) /Fit (Right)
As you can see they are the same size, so Yay Direct replacementness
Fit(Left) /EvoX (Right)
EvoX (Left)/Fit (right)
Reinstall everything in the reverse order...The black ring was a bitch. go driving.
So I drove around for a bit and it works so far...my gas light turned on, but that's because I started this with a near, almost gas light on already level; I didn't want a full take of gas when I pulled out the housing. we'll see how this goes down the line, hopefully I won't need to do this again =D
08-27-2011, 01:41 PM
x2, thanks for sharing your findings TunaDaMan.
I did a quick google on the flow rate of the Evo X FP and found this post:
AMS EVO X Test: Part Two - Boost Control and Fuel Pump test - evolutionm.net
08-30-2011, 12:28 AM
The AMS guys, I think, say that the pump is rated to like 210 liters per hour (lph); when you compare it to this second picture, when the walbro 255 is flowing 255 lph, draw a line down and the EvoX fuel pump is pretty much flowing 210 ish lph
08-30-2011, 12:44 AM
As an update everything is running perfectly fine, I did have an issue in the early days with my car taking more cranks than usual to start up, I'm going to assume I had an issue when the fuel pump was reinstalled, I think the O-ring on the fuel pump didn't sit right so my fuel system wasn't holding pressure as it should have been, so it needed to crank more to allow the pump more time to pressurize the fuel system.

the issue was resolved after I got tired of cranking it so much that I reinstalled my stock pump, but then that was also having the same issues. So I did a test, since cranking normally didn't work to well, I tried this a few times: turn the key to the car on engine off position, then off. This allows the pump to pressurize the system, then I cranked it and it worked started sooner. This showed that it was an issue with the fuel system maintaining pressure.

So I switched back to the EvoX pump made sure everything on the fuel pump hanger, and the fuel pump was put together tightly and properly. primed the fuel system, and the car started up no problems.

now I'm a happy tuna
08-30-2011, 12:55 AM
+rep

I'm thinking I may do this with a Kenne Bell Boost-A-Pump to support my fuel needs here in the near(-ish) future.

Fantastic write up.

It's either this or cutting and hacking to drop in an Aeromotive 340LPH or a Bosch 044.
08-30-2011, 02:04 AM
The Boost-A-Pump is interesting, I always wondered why some fuel pump graphs displayed pumps running on voltages over 14V like 16V and such. nice way to increase the flow rate of the pumps.

and those other fuel pumps are pretty...Awesome, i mean they flow so much, are you planning on making a little speedy monster fit?
08-30-2011, 02:31 AM
I have some plans to make a bit of power. It's more the boost pressures at which I will be making this power that concern me when it comes to pump selection.
We only have a 1.5l and for the foreseeable future I will be on the stock cam. This means we have a fixed amount of CFM available because of the ~8250rpm maximum imposed by our valve springs according to a source of mine.
In order to get the power I am aiming for with that limitation I need to make that charge volume as dense as possible. On the order of 2.5-3 bar based on my rough math.
So with our ~52psi base fuel pressure and then 36-44psi boost on top of that we are looking at nearly 100psi fuel pressure. Look how much even the Walbro and Evo pumps drop off by then.
The Bosch 044 I know for a fact holds up remarkably well under pressure, as I have used them in the past.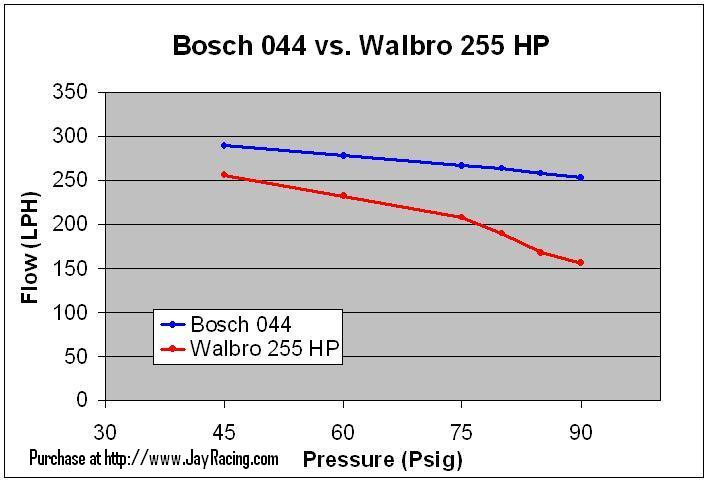 The Evo does as well, so I am hoping that with 16.5-17v at the terminals it will be enough to feed some ID1000 injectors when I am trying to jam 55-60lbs/min airflow through our tiny little ports on the L15A1 cylinder head.
Its doubtful that the stock longblock will hold up for long like that, but I will be putting in some ARP L19 headstuds to deal with this. I will have to re-tap the block for this but I think it will be worth it.
I don't really have a HP goal in mind, but I really want to make 300wtq.
It's gonna be a lifted head or a bent rod that does me in I bet.
---
Last edited by DiamondStarMonsters; 08-30-2011 at

02:41 AM

.
07-09-2017, 10:17 AM
Just did this install and wasn't getting any fuel pressure at all. Found that the small black rubber o ring that fits over the plastic sleeve was stuck up in the housing. Make sure you fish that o ring out and slide it over the plastic sleeve pictured on the pump on the left above.
07-11-2017, 12:28 AM
It's been almost six years since I've changed the fuel pump and haven't had any problems yet.

Welcome to the EvoX fuel pump club... man it's been forever since I've been on the forum
07-11-2017, 02:47 PM
Thread
Thread Starter
Forum
Replies
Last Post
2nd Generation GE8 Specific DIY: Repair & Maintenance Sub-Forum
2nd Gen GE8 Specific Fit Engine Modifications, Motor Swaps, ECU Tuning Sub-Forum
2nd Generation (GE 08-13)
Fit Engine Modifications, Motor Swaps, ECU Tuning
Fit Engine Modifications, Motor Swaps, ECU Tuning