Compound Turbo 2.0L Gasser - 9.73 @ 140mph!
08-23-2012, 11:08 AM
Compound Turbo 2.0L Gasser - 9.73 @ 140mph!
---
From this weekends shootout, John Wheeler's Compound Turbo Talon won the DSE series with a 9.73 @ 140mph:
Running only regular Pump E85 @ 37psi boost which is as low as it will go, wastegate spring pressure.
Holset HX52 feeding an H1C (Similar to HX35):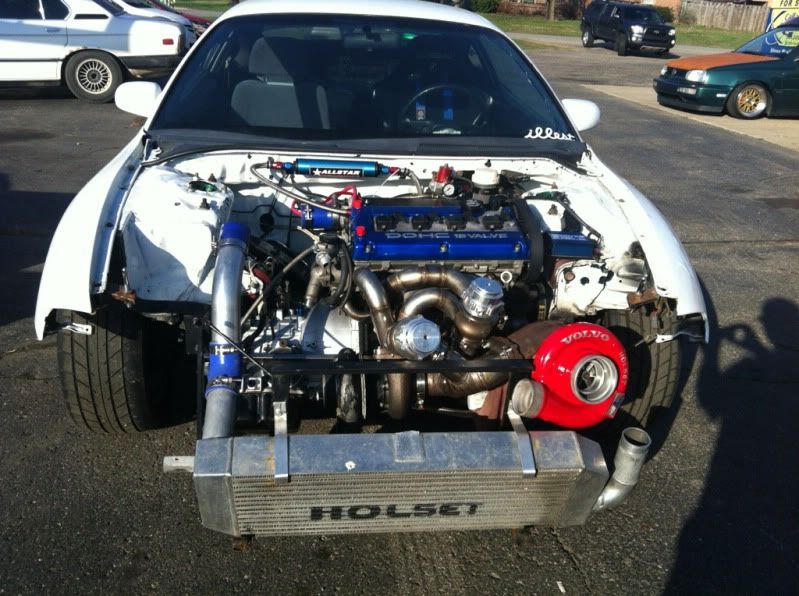 Read more here:
2G Compound charged talon wins DSE - DSM Forums
Compound Turbo E85 Steams BAD! - DSM Forums
Drag Race Build Journal Compound Turbo Setup Holset style - DSM Forums
Compound turbo exhaust routing - DSM Forums
---
Last edited by DiamondStarMonsters; 08-23-2012 at

11:30 AM

.
08-24-2012, 02:27 PM
No one appreciates the implications of how something like this can be setup for a small motor street car?

This car is full interior, and a heavy pig at that.

Just has a harness for the driver, stock seats all around and a cage.
08-24-2012, 03:28 PM
There is a ton left in that setup. That HX52 is the same turbo I have on the race car, and he is on the wastegates at 37psi, The HX52 as a big single will support boost into the 60s with E85 and conservative timing.

For perspective, there are a ton of Turbo V8's both carb and EFI that make the switch from 116oct race gas to E85 pump and pick up significant power, thats how stable the E85 is.

E85 is one my favorite fuels, by a long shot

You should see the power people pickup when they can get aggressive with the timing at high boost.
09-21-2012, 04:44 PM
Nice ride DSM right now im trying to get the rx7 frist gen back on i think its the fuel pump theres not pressue in the line : / got a new one probly put it on saturday ill post a Video of me trying to start it maybe u can hear it idk : / owell trying to make it start before Seven Stock
---
Last edited by Wafulz; 09-21-2012 at

04:49 PM

.
Thread
Thread Starter
Forum
Replies
Last Post
3rd Gen GK Specific Fit Engine Modifications, Motor Swaps, ECU Tuning Sub-Forum
Fit Engine Modifications, Motor Swaps, ECU Tuning
Other Car Related Discussions
2nd Generation (GE 08-13)