2013 Civic
11-25-2012, 04:34 PM
2013 Civic
---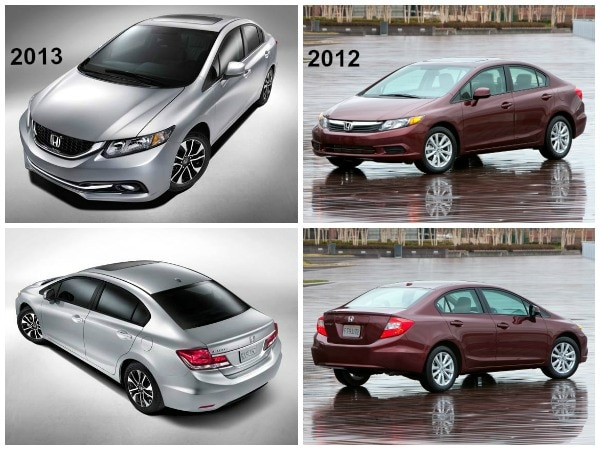 When the ninth-generation Honda Civic was introduced for the 2012 model year, not everyone was impressed. But we
liked the car overall
and felt the criticism got a bit overblown. Honda took swift action, though, giving the Civic a comprehensive makeover in time for just its second model year. The refreshed Civic is set to go on sale in time with its LA Auto Show debut.
11-29-2012, 09:29 PM
Major improvement with styling, interior quality and ride. When I bought my Fit I wanted a Civic and I had to choose between a 2012 LX or a Fit base, I was like "I'll take the Fit!" The Fit had a nicer ride, better interior, better styling, and even better quality! Go figure right? I may have went with a Civic though if this sexy SI was there.
If you ask me the car has gone way upmarket. :)
---
Last edited by BlueRaspberryFit; 11-29-2012 at

09:33 PM

.
11-29-2012, 10:27 PM
11-29-2012, 10:45 PM
I still like the European version comes with the magic seats: R (not for the USA)
I went on the Honda site LX was only Civic with manual transmission once you add a few options (alloy wheels, fog lights ) close to $22k.
---
Last edited by cjecpa; 11-29-2012 at

10:50 PM

.
11-29-2012, 10:47 PM
Member
Join Date: May 2012
Location: Boston, MA
Posts: 1,266
Amazing what happens when they throw in an extra $160 of trim, huh? :P

It's a huge step forward and although they "claim" that it has nothing to do with the horrible reviews of the car, that is absolutely not the case. This was a comprehensive addressing of all the disappointing features of the old car. I would bet you that if you found out who was in charge of the Fit Sport and Accord Sport you would also find that he was tapped for this redesign, because it's basically been given the same treatment.

Since there was no drop in sales for the Civic when she launched, that means there is an entire year's worth of people with questionable automobile taste who can now be identified by their choice of ride: the 2012 Honda Civic.

Glad it's behind us.
11-30-2012, 01:50 AM
Meh, still don't think either one is much of an improvement over (or that different than) the 8th gen.

Only reason I see to buy a newer one is to get an Si with the K24. Opposed to many fanboiz, I much prefer it's torque curve over the higher reving K20.
11-30-2012, 09:14 AM
I believe the DX trim has been dropped, which doesn't hurt my feelings at all since the LX already has hubs, no sunroof, etc. I think now Honda's saying, it makes more sense for this to be our base model, kinda like what they did with the Accord.
11-30-2012, 12:37 PM
Thread
Thread Starter
Forum
Replies
Last Post
2nd Generation (GE 08-13)
2nd Generation (GE 08-13)
2nd Generation (GE 08-13)
Other Car Related Discussions
Other Car Related Discussions